Thursday, 15 June 2023
15:30 - 17:00 
Ballroom 20, San Diego Convention Center
"Inspiring the next generation into STEM/STEAM "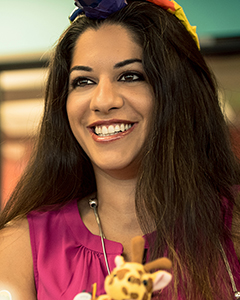 Abstract: Want to inspire the next generation into your field? Saura Naderi will talk about her experience engaging youth in engineering activities, including what she is currently working on at the Halicioǧlu Data Science Institute at UC San Diego. She'll talk about the value of encouraging more young people into engineering career pathways and how the audience can do their part in helping the next generation succeed in STEM fields.
Speaker Bio: Saura Naderi is the outreach and diversity director at the Halicioǧlu Data Science Institute at UC San Diego. She earned her engineering degree from UC San Diego Jacobs School just as the recession hit. Not satisfied by the opportunities available to her, she created her own. She volunteered, later becoming an employee, to create a program at UC San Diego where undergraduates and K-12 students could play and explore science and technology with art-themed engineering-based projects. After receiving the exemplary employee award at UC San Diego and the Athena Pinnacle award and invited to do a TEDx talk, she was recruited by Qualcomm to create a similar program named – Thinkabit Lab. Upon leaving Qualcomm, Thinkabit Lab engaged 14,000+ middle school students and has been replicated in many different environments from libraries and schools to universities and companies. Saura was also a contestant on SyFy's Robot Combat League, was an "Adventure Person" on Nerdist, and is the color commentator for the world's first giant robot fight held in Japan. One of the creative projects she is most proud of is envisioning, and leading a team of engineers and artists to create, a robotic dress that hugs people. Saura is leading efforts to broaden participation in Data Science by designing creative ways to engage a diverse population.