IMS2023 Housing
IMS2023 Hotel Accommodations/Rates
The Housing Bureau is Now Open
Housing reservation deadline: 18 MAY 2023
The Housing Bureau will accept hotel reservations starting early November 2022 through 18 May 2023.
For the convenience of the IMS conference attendees and exhibitors, blocks of sleeping rooms have been reserved for attendees at the following hotels.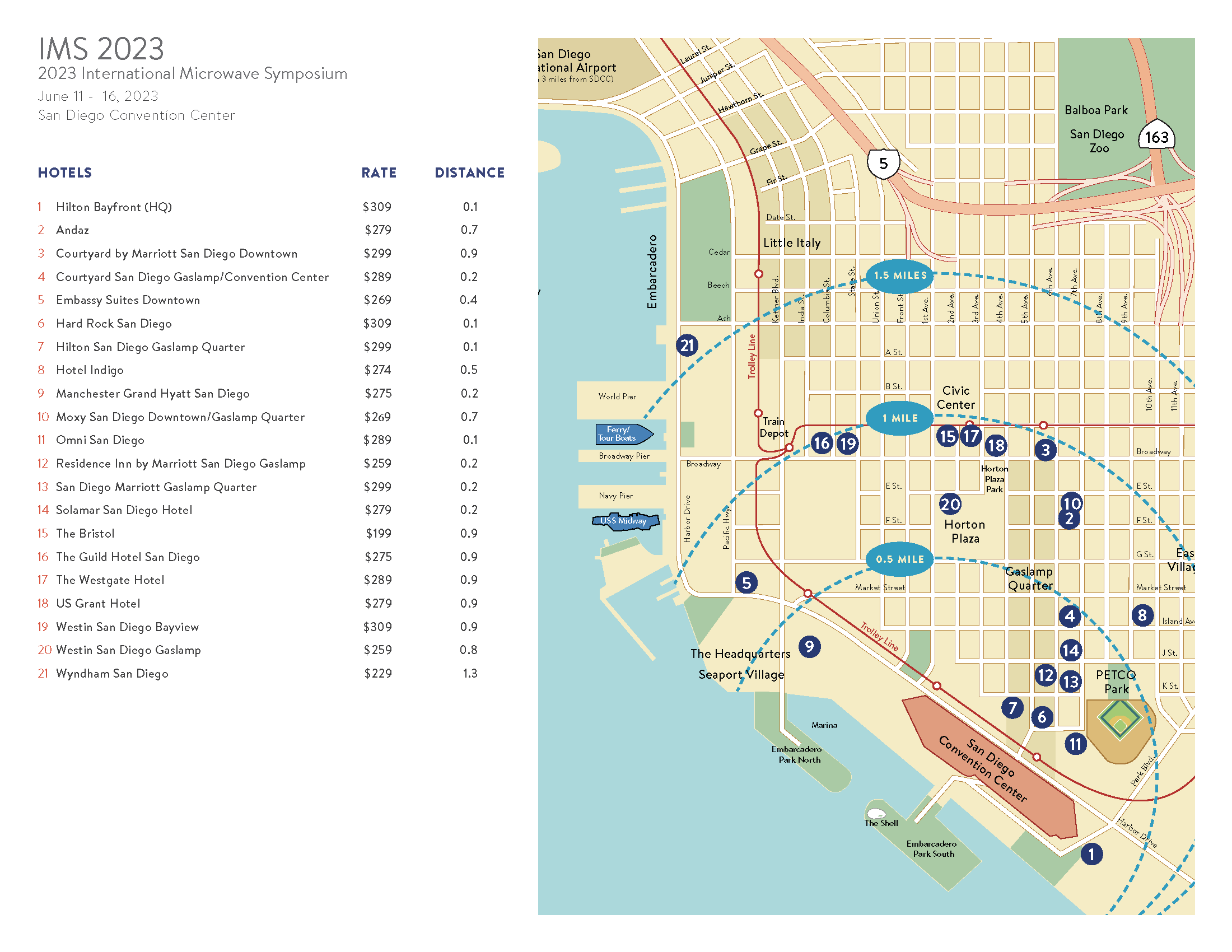 The above conference rates include complimentary wireless internet.
The conference rates are subject to applicable state and local taxes (currently 12.76%) and are based on single or double occupancy unless otherwise noted. Children 17 years of age and under, when sharing the room with a parent, will not be charged when utilizing existing bedding unless otherwise noted.
The conference rates are available for the dates of three days prior to and three days following the main convention dates, based on availability.
The Hotels requires a one-night deposit in advance to accompany the reservation in the form of a credit card. Please note, your credit card will not be charged at the time of reservation. It is solely to guarantee the reservation. However, your credit card may be charged upon arrival to the hotel. Guaranteed reservations are held until 5:00am the following morning of the scheduled arrival date, at which time the credit will be charged a one night's hotel stay should you no show at which the reservation and deposit are forfeited.
In the event a guest who has confirmed a room check outs prior to the reserved checkout date, the Hotel may charge either an early departure fee equal to one night stay or the full amount of the stay (please check with the hotel upon check-in).
Reservation cancellations vary per hotel. Please read hotels cancellation policy during reservation process.
Requests for accommodations received after the deadline will be accepted on a space available basis at the prevailing rate. Reservation requests for specific room types, views and bedding are subject to availability at the time of arrival and not guaranteed.
GOVERNMENT RATE
There are a limited number of rooms available at the Government rate. Government rate rooms are on a first come first serve basis.
Check-in/Check-out:
Check-in time is: 15:00
Check-Out Time is: 11:00
TRANSPORTATION TO AND FROM THE SAN DIEGO CONVENTION CENTER
The San Diego Convention Center is within walking distance to all the hotels in the block. Shuttle service from hotels to the San Diego Convention Center is not provided.
Need assistance with your hotel reservation? Please contact onPeak the Official Housing Bureau.
Phone: 1-800-895-3978 (Toll-Free) or 1-312-527-7300 (Direct)
Email: IMS@onpeak.com
Important Reminder:
onPeak is the only hotel provider endorsed by IMS. If you are contacted by other third-party companies offering hotel assistance, please be aware they are not endorsed by IMS. Entering into financial agreements with these companies can have costly consequences and are not protected by event management.