Young Professionals (YP) Program and Lounge
Check out all the great activities planned for Young Professionals at IMS2023! The Young Professionals Lounge will be located in the Sails Pavilion at the San Diego Convention Center. Additional details on speakers can be found below.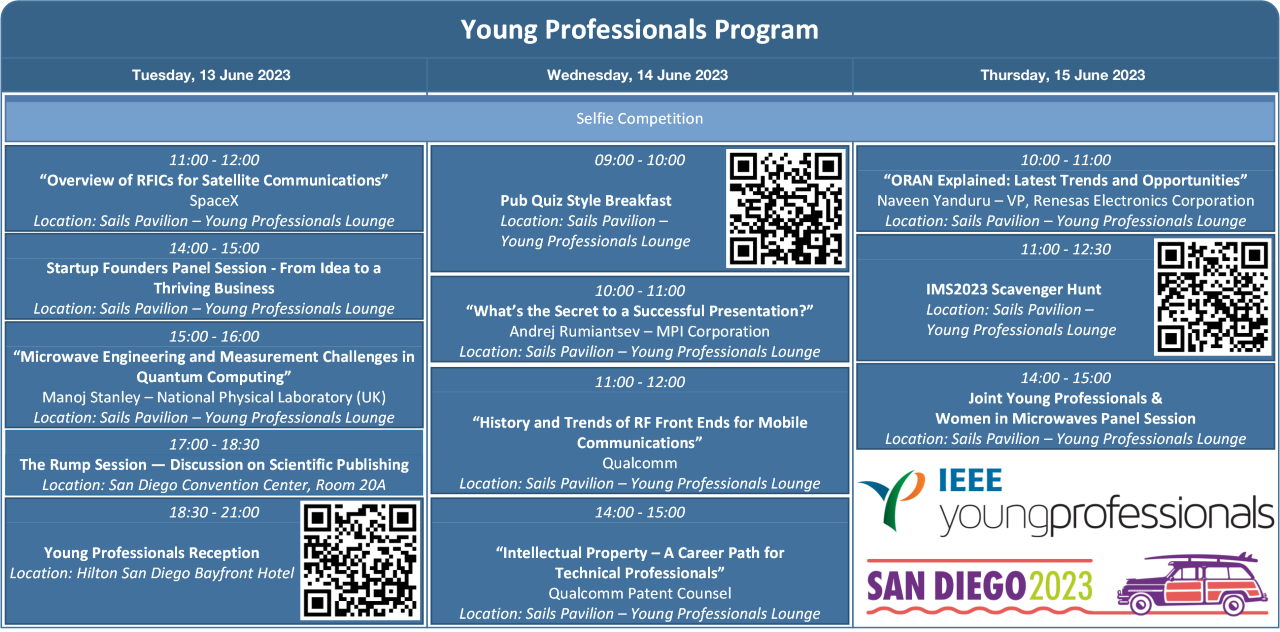 ---
Microwave Engineering and Measurement Challenges in Quantum Computing
Date and time: Tuesday, 13 June 2023 at 15:00-16:00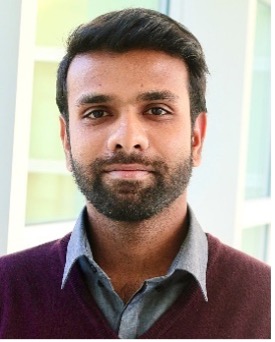 Dr. Manoj Stanley, National Physical Laboratory, Teddington, UK
Organizers: Jonas Urbonas, Paolo de Falco
Location: YP Lounge
Abstract: Quantum computers exploit quantum mechanical phenomena such as superposition and entanglement to solve certain problems that are computationally impractical using classical computers. These systems perform computations using a probabilistic approach by utilising basic unit of quantum information known as qubits as opposed to the deterministic approach used in classical computers using bits. Some applications where quantum computers would benefit include simulation of physical systems, optimization, and machine learning. The rapid developments in the last decade along with significant uptake from multi-national companies such as IBM, Google, etc. and governments have transformed quantum computing from a physics problem to a more engineering problem, making way for commercialisation of different quantum computing technologies.
The most popular quantum computing technologies such as the superconducting, ion trap and semiconductor quantum computing utilizes principles of microwave engineering to design qubits, perform quantum gate operations and building a useful scalable quantum processor. A significant amount of engineering problems related to quantum computing hardware can, therefore, be addressed by skilled microwave engineers. Therefore, commercialisation of quantum computers can be accelerated by increased uptake of this research area by the microwave community.
The talk will be aimed toward microwave engineers and measurement scientists who may have no background in quantum computing and will introduce basic principles, and microwave related engineering and measurement challenges of practical quantum computing hardware.
Speaker Bio: Manoj Stanley completed his Ph.D. degree in Electrical Engineering from the University of Liverpool in 2019. Currently, he is working at the UK's National Physical Laboratory as a Senior Research Scientist in the Electromagnetic Technologies group. He has led and supported the development of next-generation computing and communications technologies and high-frequency electronics applications. Currently, he is developing high-frequency metrology capabilities at cryogenic temperatures for quantum computing applications.
---
History and Trends of RF Front Ends for Mobile Communications: A complex and challenging opportunity for young professionals
Date and time: Wednesday, 14 June 2023 at 11:00-12:00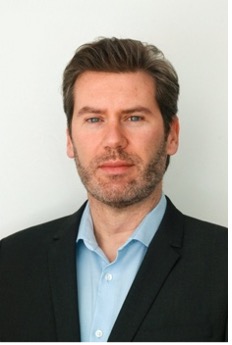 Dr. Marco Cassia, Qualcomm Technologies Inc., San Diego, CA 
Organizers: Jonas Urbonas, Paolo de Falco
Location: YP Lounge
Abstract: This talk will provide a high-level overview of RF front-end components with a focus on cellular. A brief overview of RF front-end definition and mobile landscape evolution will serve as an introduction to contextualize system and components implementation aspects. After discussing trends and challenges of today communication environment, the talk will focus on the skillset and the career opportunities to tackle and to address this complex and fascinating front-end world.
Speaker Bio: Marco Cassia is Vice President of Engineering at Qualcomm Technologies, Inc., where he is responsible for the architecture, the design and the productization of state-of-the-art RFFE modules and for the development of advanced technology to enable next generation RF Front-End devices. He joined Qualcomm in 2005 and has been involved in the design and productization of IC transceivers and RF Front-End components. Marco holds multiple U.S. patents; he received his M.Sc. in electrical engineering from Politecnico di Milano, Italy, and the M.Sc. and Ph.D. degrees in electrical engineering from the Technical University of Denmark.
---
Intellectual Property – A Career Path for Technical Professionals
Date and time: Wednesday, 14 June at 14:00–15:00
Location: YP Lounge
Abstract: This session will give an overview of intellectual property and will provide insights and experiences related to careers involving intellectual property for engineers.  A brief introduction to intellectual property will highlight key principles of different forms of intellectual property (particularly patents) that have evolved via common law practices driven by notable past intellectual property disputes.   A panel discussion with a Q&A will provide a detailed view into the type of work involved with supporting intellectual property inside of a company as well into different roles for attorneys and non-attorney engineers supporting the development and enforcement of patents.  The panel will provide perspectives on the law school experience for engineering graduates along with perspectives on the differences between working as an in-house attorney versus outside counsel.  The panel will also provide insights into what is involved for non-attorney engineering roles supporting IP within a company.
Speaker Bios:
Mike Harris is currently Patent Counsel at Qualcomm.  As an IP attorney, he focuses on patent prosecution and portfolio management for various technologies including cellular RF front-ends, transceivers, acoustic filters, and wireless power transfer for devices and electric vehicles.  He has a B.S. in Computer Engineering from Brigham Young University and a J.D. from the University of Virginia School of Law in 2010. 
Rob Gilmore serves as Senior Director, Engineering in Qualcomm's IP Department where he runs the RF Portfolio Team. Rob has more than 40 years of experience in engineering, communication systems design, and development.  Mr. Gilmore joined Qualcomm as the ninth employee in October 1985. His experience includes Senior Vice President of Hardware Engineering where he was responsible for the OmniTRACS production system, early testing of the CDMA cellular system, the Globalstar ground segment including gateways, phones and system engineering, and served as Senior Vice President of Engineering for the Consumer Products Division. From 2008 to 2013 Rob was Vice President of ASIC Engineering in Qualcomm Research.  Mr. Gilmore began his career as a co-op student at Bell Laboratories, where he worked both in digital radio and in satellite research. He earned his BSEE and MSEE degrees from the Massachusetts Institute of Technology. He holds more than 100 granted patents, has authored numerous publications, and is an IEEE Fellow.
Liberty Mann is a Patent Counsel, Senior at Qualcomm and has been working in the patent field for nearly 20 years.  His experience as an IP attorney ranges from medical devices to software for social media to encoding schemes for standards protocols, but his current focus is on RF technologies.  His practice includes patent prosecution, validity defense, and litigation in both the US and internationally.  Liberty has a B.S. in EECS from UC Berkeley and a J.D. from the George Washington University Law School.
---
ORAN Explained: Latest Trends and Opportunities
Date and time: Thursday,15 June 2023 at 10:00-11:00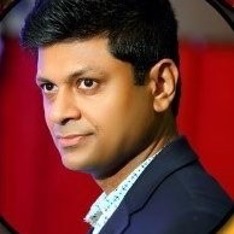 Dr. Naveen Yanduru, Renesas Electronics Corp., San Diego, CA 
Organizers: Jonas Urbonas, Paolo de Falco
Location: YP Lounge
Abstract: This talk will cover the motivation for ORAN, the technical and commercial challenges as well as opportunities for innovation. With a focus on the Radio Unit along with the interface/partitioning with Distributed Unit, this talk will cover the architectural trends in RF Front-ends, Transceivers (Direct RF Sampling vs. ZIF), DFE implementation and high speed interfaces. Scalability and re-use of the chips/"chiplets" across Macro, Massive MIMO and Small Cell will be explored. 
Speaker Bio: Dr. Yanduru is currently the Vice President and General Manager of the RF Business Unit at Renesas. Before Renesas, he has held various technical and management roles at Texas Instruments, Samsung, Psemi and Qualcomm. He has designed, led and managed teams in the design of various connectivity and cellular RF Front-Ends, Transceivers and SoCs. Naveen has 26 US patents, has over 25 IEEE publications and served as Distinguished Lecturer for IEEE-CAS. He has a PhD from the University of Texas at Dallas.
Sponsored By: